SELLING_BOOSTER : Power Macro for HarvEX+
Auction-Selling-Booster & After-Auction-Mailer
Boosts auction prices by kind of real-time auction CRM mailings.
The profit of (eBay) selling is contained in the last steps of the price ladder !
SELLING_BOOSTER has shown in past to raise selling prices by 5% .. 100% depending on the nature of sold goods.
SELLING_BOOSTER sends personalized thanks-for-bidding emails and auction-ends-soon-reminder emails from you to each bidder (uses MS Outlook)
SELLING_BOOSTER can also do your after-auction mailings - personalized to winners, to non-winners and to reserve-not-met high-bidders
SELLING_BOOSTER collects all the email addresses of all bidders (winning & non-winning as long as the bidders were once high-bidders during the race). Addresses can also be used for example by TurboMailer
SELLING_BOOSTER runs standalone - no extra periodic costs
SELLING_BOOSTER runs on top of the leading universal eBay/auction automation platform software HarvEX+, which enables also bulk search, analysis, statistics, emailing, feedback, auction sniping and universal macro automation
Buying SELLING_BOOSTER includes the macro source code
---
Free Trial | US$149 | For Windows™ 98,ME,NT,2000,3000 & XP
---

Request SELLING_BOOSTER Free Trial

Download 14-Day Free Trial HarvEX+ ::

( HarvEX+ platform )

Installation & Quick-Start
---
Screenshot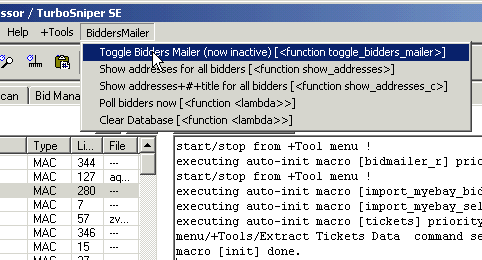 ---
System Requirements
Your computer & HarvEX+ have to run permanently for automatic background execution of its task
Your computer has to have a permanent internet connection (fast DSL/cable and a flat rate are recommended)
---
Request a 7-Day Free Trial of SELLING_BOOSTER
( * = required )
Further questions: feedback@xellsoft.com
Custom software development :

Request Form
---
Buy SELLING_BOOSTER Macro
The SELLING_BOOSTER license:
Unlimited full-version of the macro SELLING_BOOSTER
The Source-Code of the macro (Copyright remains at Xellsoft.com)
The price of SELLING_BOOSTER is US$ 149.
Buy Now :
---
This software is delivered electronically by email after payment
Installation und Quickstart
Installation of HarvEX+; Download ::



Load the macro : Menu/File/Load a Macro



Execute the macro once: You'll see an extra "SellingBooster" menu


Be sure to have MS Outlook installed and set up

Set up the configuration and email templates: Menu/SellingBooster/SB Main Configuration; for first test please don't activate the direct email sending for any events => mails go to the Outlook draft folder

Activate Menu/SellingBooster/Start Task!
The macro runs in background now. Check the log output